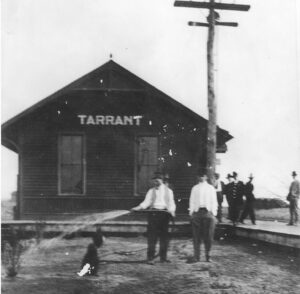 At the turn of the 20th century, as many as 500 African American families lived in Fort Worth's thriving Rock Island Bottom neighborhood. The area was bounded by East Belknap Street to the north, the Trinity River to the east, and the Chicago, Rock Island & Pacific Railroad to the south and west. (Image of Rock Island station, right, from Tarrant County College, Northeast Campus, Heritage Room.)
Most residents were unskilled workers or downtown service workers, such as cooks, porters or maids. Greenway Park and the Fourth Street Baptist Church were important community focal points, and business activity centered on East Fourth Street.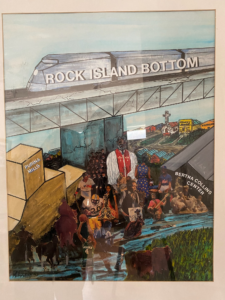 Many residents left after a 1949 flood. During the 1950s, Interstate 35W sliced through the middle of The Bottom, taking whole blocks and half the park. The Hill, an African American community just west of The Bottom, was also decimated by the interstate construction. (Image of Rock Island mixed media artwork, courtesy of the Tarrant County Black Historical and Genealogical Society)
"The flood was in '49 and the community survived," Sarah Walker of the Tarrant County Black Historical and Genealogical Association told the Fort Worth Star-Telegram in 2013. "But then Mr. Eisenhower's vision came through and it destroyed the neighborhoods, not just in the black community, but all over that part of town."
Walker remembered the quality of life in Rock Island and Hill communities as modest and friendly.
"It was neighbors knowing one another, neighbors who were not in gated communities," she said. "A place where they didn't have cars, where they had to ride the bus."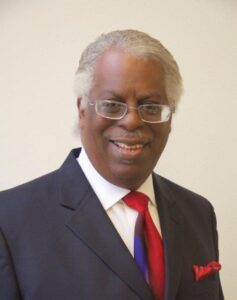 By the 1980s, the neighborhood had disappeared. The Hill's most vital area today is Jennings Place, the former Hillside Apartments built in 1997 and renamed in 2021 in honor of Devoyd "Dee" Jennings. The former president and CEO of the Fort Worth Metropolitan Black Chamber of Commerce grew up in The Hill and died in July 2021.
"Fort Worth was his city," said Gwen Barbee, Mr. Jennings wife of 41 years. "When he was growing up in Butler, he always told his friends to look up The Hill toward downtown because that was the future. He told them to believe that they could work hard, go to school and, one day, work in those office buildings."
Baptist Hill, so called by early residents for its concentration of churches, overlooked The Bottom and connected it with The Hill. It includes I.M. Terrell Academy and the former site of the Butler Place public housing community.
Sources: Fort Worth Star-Telegram, Tarrant County Black Historical and Genealogical Society
FWHS is highlighting important moments in our agency's history in conjunction with national 2022 Black History Month celebrations. Learn more at blackhistorymonth.gov.